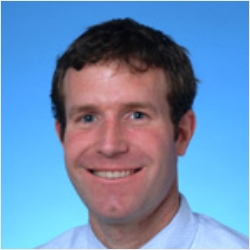 The Department of Orthopaedics recently received accreditation by the Accreditation Council on Graduate Medical Education (ACGME) for a new fellowship for orthopaedic sports medicine. This is the first orthopaedic fellowship at the UNC School of Medicine.
"We hope to provide our fellows a comprehensive experience of a tertiary medical center and a high volume private practice, basically giving the fellow the best of both worlds. Also, our sport coverage will be excellent including UNC, NC State, and Carolina Hurricanes. The fellowship will add to resident education by letting them see a different perspective, augment teaching, and adds a layer of education where they can gain knowledge from. I am looking forward to the challenge and hope to continue to evolve as an orthopaedist, educator, and grow our brand," said Dr. Alex Creighton, Program Director.
This fellowship will be a joint program with the Raleigh Orthopaedic Clinic and will enable fellows to receive training in both an academic and community setting. The program will graduate 2 fellows per year and it is a one year program. The first recruits are anticipated in 2018. Dr. Alex Creighton is the Program Director with orthopaedists Dr. Jeff Spang and Dr. Ganesh Kamath from the UNC School of Medicine. Dr. Ed Cadet is the Site Director at the Raleigh Orthopaedic Clinic with orthopaedists Dr. Bob Wyker, Dr. Joe Barker, and Dr. Marty Isbell. Karen Gillman is the Program Coordinator.