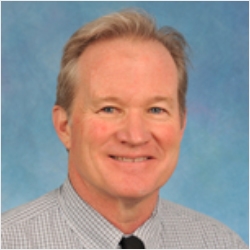 Edmund Campion, MD, Frank C. Wilson Distinguished Professor and Chair, Department of Orthopaedics, was featured on WRAL discussing Magec Rods, a newly available intervention for adolescents with severe scoliosis.
[From WRAL]
A new option to treat scoliosis in children could help some kids avoid multiple surgeries to reposition pins as they age.
Scoliosis, a curvature of the spine, is the most common spinal disorder in children and adolescents. In more rare cases, it can appear in early childhood, and the problem can affect a child's heart and lungs if not corrected with bracing or with several spinal surgeries.
Everything seemed normal for 13-year-old Greyson Deal when he was born. But when he was about 15 months old, his mother said something was off.
"He was learning to crawl and walk and something just didn't look right," Kelly Deal said.
Travis and Kelly Deal learned it was early onset scoliosis, and Greyson's orthopedist hoped bracing would help correct the problem. Greyson wore a brace for as much as 23 hours a day for the next 10 years.
"It was really a struggle because I didn't want to put it on at all," Greyson Deal said.
Despite the braces, though, Greyson's spinal curve continued to increase to 60 degrees.
"Once a curve gets this big, bracing is really not an option—you can't control it with bracing," said orthopedic surgeon Dr. Edmund Campion.