MEDICAL SCHOOL
Temple University, 1976 - 1980
RESIDENCY
Einstein Medical Center, 1981 - 1985
Area: Orthopaedic Surgery
INTERNSHIP
Einstein Medical Center, 1980 - 1981
Area: General Surgery
CERTIFICATIONS
Orthopaedic Surgery, Board Certified, 1988
Musculoskeletal trauma
Post-traumatic reconstruction
Nonunions, malunions
Foot & ankle surgery
2012-present Professor of Orthopaedics, UNC School of Medicine
Elected by his peers for inclusion in Best Doctors in America as selected by Woodward and White from 1998 – present
Best Ortho Traumatologist in North America, 2015
Frank Wilson Faculty Teaching Award, 2014
The States' Best Doctors, 2012
Selected "Top Doctors" in Philadelphia Magazine, 2011
Selected "Top Doctors" in New Jersey Monthly 2009, 2010, 2011
Selected "Top Doctors" in South Jersey Magazine 2006, 2007, 2008, 2011
Highlighted paper selected by the program committee at the 2010 OTA Annual Meeting. "Is Septicemia a contraindication to internal fixation in the multiply traumatized patient?," October 2010
The #13 most cited first author in, " Leading 20 at 20: Top Cited Articles and Authors in the Journal of Orthopaedic Trauma, 1987-2007" J Orthop Trauma (24):53-58, 2010
Selected "Top Docs for Kids" in SJ Magazine, 2008, 2009, 2010
Edward J. Ill, M.D. Award for Excellence in Medicine, 2008
Selected "Top Doctors" in SJ Magazine, 2008
"Excellence in Teaching Award," UMDNJ-Robert Wood Johnson Medical School, 2007
"Orthopaedic Surgery Attending of the Year," as selected by residents at Philadelphia College of Osteopathic Medicine, 2006
Selected "Top Doctors in Columbus" in Columbus Monthly Magazine, September 1998
"Retrograde Intramedullary Nailing of Femoral Diaphyseal Fractures," Ostrum R, DiCicco J, Lakatos R, Poka A. Presented at the 13th Annual Orthopaedic Trauma Association Meeting, Louisville, Kentucky, and selected as one of the ten best papers for presentation at the American Academy of Orthopaedic Surgeons Specialty Day
Edwin G. Bovill Award for Best Paper, " A Prospective Comparison of Antegrade and Retrograde Femoral Intramedullary Nailing." Presented at the 14th Annual Meeting of the Orthopaedic Trauma Association (Vancouver, BC), 1998
Cannada LK, Anglen JO, Archdeacon MT, Herscovici D Jr, Ostrum RF. Avoiding complications in the care of fractures of the tibia. J Bone Joint Surg Am. 2008 Aug;90 (8):1760-8.
Russell TA, Leighton RK, Ostrum R. Alpha-BSM Tibial Plateau Fracture Study Group. Comparison of autogenous bone graft and endothermic calcium phosphate cement for defect augmentation in tibial plateau fractures. A multicenter, propective, randomized study. J Bone Joint Surg Am. 2008 Oct;90 (10):2057-61.
Cannada LK, Jones TR, , Ostrum RF, et al. Retrograde Intramedullary Nailing of Femoral Diaphyseal Fractures Caused by Low-velocity Gunshots. Orthopedics. 2009 Mar;32(3).
Ostrum R, Storm S, White K. The epiphyseal scar as a radiographic landmark for retrograde femoral nail insertion. Amer J Orthop XXXVIII, 9: 442-444, 2009.
Ostrum R, Maurer JP. Distal Third Femur Fractures Treated With Retrograde Femoral Nailing and Blocking Screws. J Orthop Trauma 23 (9) 2009: 681-684.
Nydick JA, Farrell ED, Marcantonio AJ, Hume EL, Marburger R, Ostrum RF. The use of clopidogrel (Plavix) in patients undergoing nonelective orthopaedic surgery. J Orthop Trauma 2010 Jun;24(6):383-6.
Mani U, DeJesus D, Ostrum R. Arthroscopically Assisted Removal of Loose Bodies in Acute Acetabular Fractures: A Modified Anterior Technique.. Am J Orthop. 2013;42 (4):186-189.
Ostrum RF. Orthopaedic Trauma Mythbusters: Intra-articular Fractures. Instr Course Lect. 2013:62:29-33.
see entire list available at PubMed
UNC Orthopaedic Clinic at the Ambulatory Care Center (ACC)
102 Mason Farm Road
Second Floor
Chapel Hill, North Carolina - 27514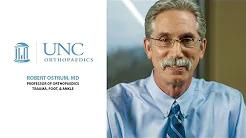 Robert Ostrum, MD
Foot & Ankle