MEDICAL SCHOOL
Washington University, 1998 - 2002
RESIDENCY
Washington University, 2002 - 2007
Area: Orthopaedic surgery
FELLOWSHIP
Washington University, 2007 - 2008
Area: Hand and upper extremity
CERTIFICATIONS
Orthopaedic Surgery, Board Certified
2016-present Associate Professor of Orthopaedics; UNC School of Medicine
UNC Health Care and Faculty Physicians Award for Carolina Care Excellence, 2019
UNC Health Care and Faculty Physicians Award for Carolina Care Excellence, 2016
Faculty Teaching Award, 2018
Carlan D, Pratt J, Patterson JM, et al. The radial nerve in the brachium: An anatomic study in human cadavers. J Hand Surg 32(A):1177-1182, 2007.
Patterson JM, Jaggars MM, Booyer MI. Ulnar and median nerve palsy in long distance cyclists. A prospective study. Am J Sports Med 31(4):585-589, 2003.
Patterson JM, Novak CB, Mackinnon SE, et al. Needle-stick injuries among medical students. Am J Infect Control 31(4):226-230, 2003.
Patterson JM, Johnson MH, Zimanjic DB, et al. Characterization of Ly-6M, a novel member of the Ly-6 famly of hematopoetic proteins. Blood 95(10):3125-3132, 2000.
Novak CB, Patterson JM, Mackinnon SE. Evaluation of hand sensibility with single and double latex gloves. Plast Reconstr Surg 103(1):128-131, 1999.
Patterson JM, Novak CB, Mackinnon SE, et al. Surrgeons' concerns and practices of protection against blood-borne pathogens. Ann Surg 228(2):266-272, 1998.
Presentations
Patterson JM, Boyer MI, Ricci W, et al. Hand trauma: A prospective evaluation of subjects transferred to a Level I trauma center. American Association of Orthopaedic Surgeons, Las Vegas, NV, February 2009. (podium)
Patterson JM, Boyer MI, Ricci W, et al. Hand trauma: A prospective evaluation of subjects transferred to a Level I trauma center. American Society for Surgery ofo the Hand, Chicago, IL, September 2008. (podium)
Patterson JM, Galatz L, Toman J, et al. CT evaluation of extra-articular glenoid neck fractures: Does the glenoid medialize or does the scapula lateralize? American Association of Orthopaedic Surgeons, San Francisco, CA, February 2008. (poster)
Patterson JM, Galatz L, Toman J, et al. CT evaluation of extra-articular glenoid neck fractures: Does the glenoid medialize or does the scapula lateralize? Orthopaedic Trauma Association, Boston, MA, October 2007. (podium)
see entire list available at PubMed
UNC Orthopaedic Clinic at the Ambulatory Care Center (ACC)
102 Mason Farm Road
Second Floor
Chapel Hill, North Carolina - 27514
UNC Orthopaedics at Panther Creek
6715 McCrimmon Parkway
Suite 205A
Cary, North Carolina - 27519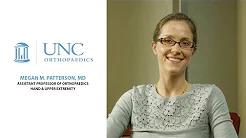 Megan Patterson, MD
Hand & Wrist