MEDICAL SCHOOL
Washington University, 1999 - 2003
FELLOWSHIP
University of Utah, 2008 - 2009
Area: Sports medicine
RESIDENCY AND CHIEF RESIDENCY
Washington University, 2003 - 2008
Area: Orthopaedic surgery
CERTIFICATIONS
Orthopaedics, Board Certified
Orthopaedic Surgery-Orthopaedic Sports Medicine, Board Certified
Soft tissue trauma of the shoulder and knee
Sports medicine
2016-present Associate Professor of Orthopaedics; UNC School of Medicine
Certificate of Added Qualification, The American Board of Orthopaedic Surgery, 2015
AOSS O'Donaghue Award, 2014
Leonard Marmor Arthritis Foundation Resident Research Award, Washington University School of Medicine, 2008
Resident Teaching Award, Washington University School of Medicine, 2008
Kamath G, Galatz LM, Keener JD, et al. Tendon integrity and functional outcome after arthroscopic repair of high-grade partial-thickness supraspinatus tears. J Bone Joint Surg Am 91(5):1055-1062, 2009.
Clohisy J, Kamath G, Byrd G, et al. Clinical follow-up compliance in total joint arthroplasty patients. J Bone Joint Surg Am 90(9):1848-1854, 2008.
Chen RC, Shia DS, Kamath GV, et al. Troublesome stress fractures of the foot and ankle. Sports Med Arthrosc 14(4):246-251, 2006.
Dobbs MB, Lenke LG, Kim YJ, Kamath G, et al. Selective posterior thoracic fusions for adolescent idiopathic scoliosis: comparison of hooks vs. pedicle screws. Spine 31(20):2400-2404, 2006.
Presentations
Rosenfeld S, Kamath G, Millis M, et al. PAO in patients older than 40 years. American Academy of Orthopaedic Surgeons, San Francisco, CA, March 2008. (poster)
Rosenfeld S, Kamath G, Millis M, et al. PAO in patients older than 40 years. Mid-America Orthopaedic Association, Orlando, FL, April 2008. (poster)
Kamath G, Clohisy J, Kim, YJ, et al. Periacetabular osteotomy for the treatment of mild acetabular dysplasia. Mid-America Orthopaedic Association, Orlando, FL, April 2008. (poster)
Kamath G, Galatz LM, Keener J, et al. Healing rate of partial-thickness rotator cuff tears after arthroscopic takedown and repair. American Academy of Orthopaedic Surgeons, San Diego, CA, February 2007. (podium)
Kamath G, Galatz LM, Keener J, et al. Healing rate of partial-thickness rotator cuff tears after arthroscopic takedown and repair. Closed meeting of the American Shoulder and Elbow Surgeons, Chicago, IL, September 2006. (podium)
Kamath G, Ricci WM, Borrelli J. Stability of intertrochanteric femur fracture fixation: A critical analysis of extramedullary vs.intramedullary implants and the effect of lesser trochanter comminution. Orthopaedic Trauma Association, Phoenix, AZ, October 2006. (podium)
see entire list available at PubMed
UNC Orthopaedic Clinic at Carolina Pointe II
6011 Farrington Road
Chapel Hill, North Carolina - 27517
UNC Orthopaedics at Panther Creek
6715 McCrimmon Parkway
Suite 205A
Cary, North Carolina - 27519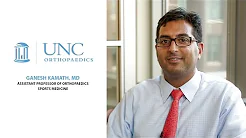 Ganesh Kameth, MD
Shoulder
Elbow